News & Events,
Dear Pilot, here you can find the latest news and events of the virtual airline
"Destinazione Costa Azzurra"
"Destinazione Costa Azzurra"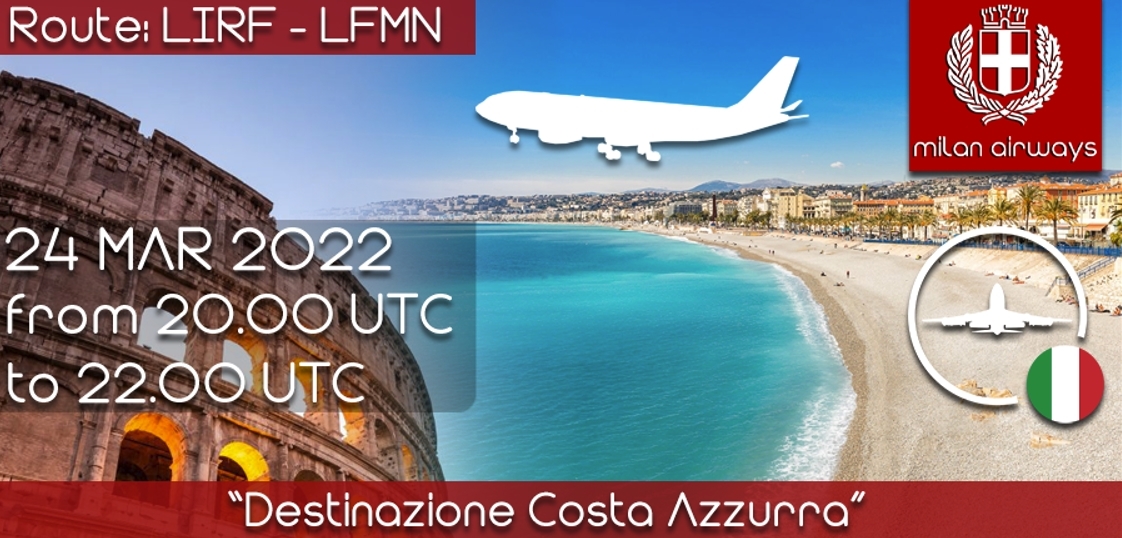 [ITA]
Cari piloti,
tra pochi giorni arriva la primavera e con essa il nostro evento mensile!
Segnatevi questa data: Giovedì 24 Marzo dalle ore 21 alle 23LT (20-22UTC). Preparate il vostro aereo preferito all'aeroporto di Roma Fiumicino (LIRF) con destinazione Nizza (LFMN), l'amata Costa Azzurra! A causa del particolare avvicinamento, in caso di condizioni meteo avverse abbiamo scelto come aeroporto alternato Marsiglia (LFML).
Partecipando all'evento si otterrà lo speciale award dedicato!

Ci troverete anche sul nostro Discord di compagnia per un veloce briefing e per scambiare quattro chiacchiere durante il volo.
Non mancate, vi aspettiamo!
[ENG]
Dear pilots,
spring is coming in a few days and with it our monthly event!
Mark this date: Thursday, March 24 from 21 to 23LT (20-22 UTC). Prepare your favourite aircraft at Rome Fiumicino Airport (LIRF) to Nice (LFMN), the beloved French Riviera! Due to the particular approach, in case of adverse weather conditions we chose Marseille (LFML) as an alternate aerodrome.
By participating to the event you will get the special dedicated award!

You will also find us on our company Discord for a quick briefing and to chat during the flight.
Don't miss it, we're waiting for you!