News & Events,
Dear Pilot, here you can find the latest news and events of the virtual airline
VA Joint Event "Malpensa Fly In"
VA Joint Event "Malpensa Fly In"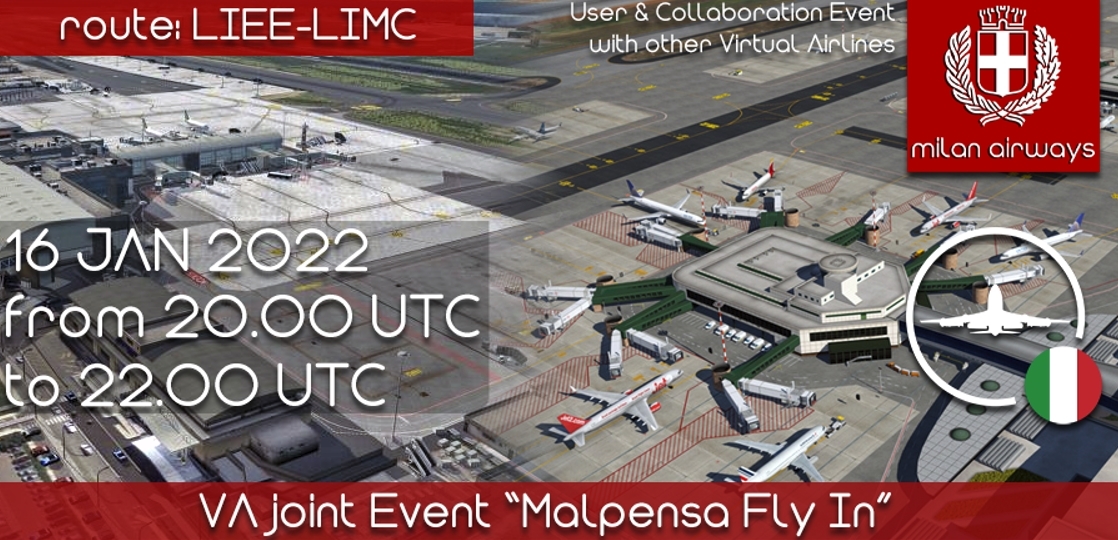 [ITA]
Cari piloti,
in collaborazione con altre VA italiane siamo lieti di annunciarvi un evento che coinvolgerà diversi aeroporti sparsi in tutta Italia con un'unica destinazione: Milano Malpensa (uno dei nostri Hub!). Noi di Milan Airways partiremo da Cagliari Elmas (LIEE), L'evento si terrà Domenica 16 Gennaio dalle ore 21 alle 23LT (20-22z).
Partecipando all'evento si otterrà lo speciale award dedicato!

Non mancate.. Vi aspettiamo!!!
[ENG]
Dear pilots,
in collaboration with other VAs we are pleased to announce an event that will involve several airports all around Italy with a single destination: Milan Malpensa (one of our Hubs!). Milan Airways will depart from Cagliari Elmas (LIEE). The event will be held on Sunday 16 January from 20 to 22 UTC (21-23LT).
By partecipating to the event you will get the special dedicated award!

Don't miss it.. We are waiting for you!!!