News & Events,
Dear Pilot, here you can find the latest news and events of the virtual airline
"Il Carnevale vola Milan Airways"
"Il Carnevale vola Milan Airways"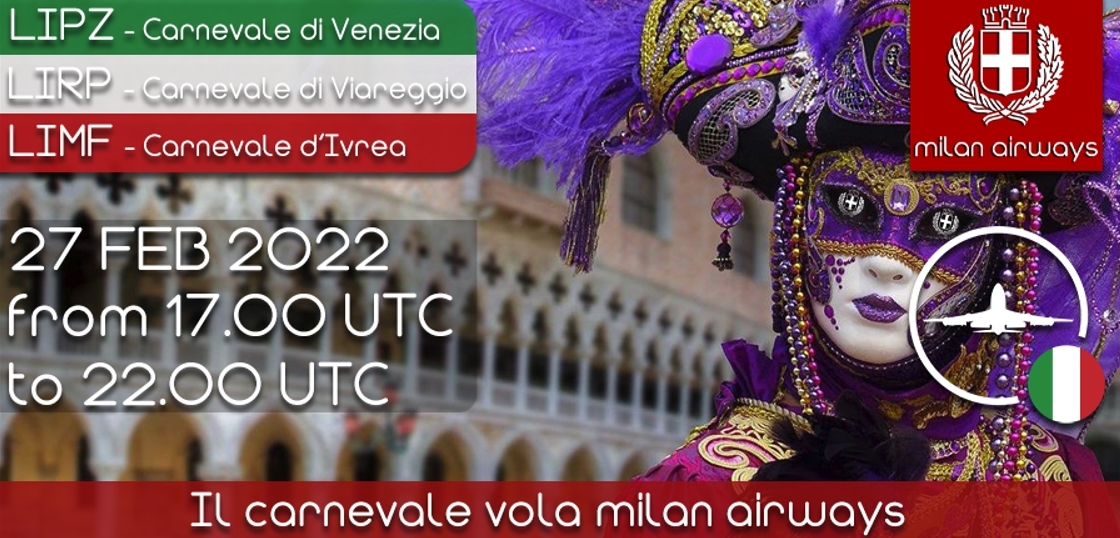 [ITA]
Cari piloti,
Dopo 2 anni di pandemia, finalmente torna una delle feste più attese di questo periodo: il Carnevale! E quale miglior modo di festeggiarlo se non con un evento a tema?
L'evento si terrà Domenica 27 Febbraio e consiste in uno speciale airbridge in cui sarà necessario toccare i 3 aeroporti collegati alle città più "festose": Torino (Carnevale di Ivrea), Pisa (carnevale di Viareggio) e Venezia. Ognuno potrà scegliere quale tratta volare,non ci sarà un ordine, l'importante è che si decolli da uno degli aeroporti sopracitati, operando due voli al fine di toccare i due rimanenti nella fascia oraria compresa tra le 18 e le 23 LT (17-22z).
Partecipando all'evento si otterrà lo speciale award dedicato!

Inoltre potrete trovarci sul Discord di compagnia per scambiarci quattro chiacchiere e per condividere il vostro volo!
A breve pubblicheremo i vari piani di volo validati ;)
Vi aspettiamo, non mancate!!!
[ENG]
Dear pilots,
After 2 years of pandemic, one of the most anticipated holidays of this period is finally back: Carnival! And what better way to celebrate it than with a themed event?
The event will be held on Sunday 27 February and consists of a special airbridge in which it will be necessary to touch the 3 airports connected to the most "festive" cities: Turin (Ivrea's Carnival), Pisa (Viareggio's Carnival) and Venice. Everyone can choose which route to fly, there will be no order, the important thing is that you take off from one of the aforementioned airports, operating two flights in order to touch the two remaining in the time slot between 18 and 23 LT (17-22z).
By participating in the event you will get the special dedicated award!

You can also find us on the Discord to exchange a chat and to share your flight!
Soon we will publish the various validated flight plans ;)
We are waiting for you, don't miss it!!!